About us
Sic revenit gloria Mvndi Romani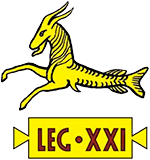 QVI SVMVS
WHO WE ARE
In case of every empire - size matters. Legio XXI Rapax is one of the biggest groups reenacting a Roman military unit worldwide. It was founded in 2003 and renewed in 2008. By now our group comprises over 100 equipped legionaries - more than a whole imperial centvria - plus people recreating various civilian roles. Our members come from Poland, Germany, Luxembourg, the Netherlands & Czech Rep. All passionates, among them people with scholar background in ancient warfare, history of Rome & Greece, teachers of Latin.
We refer to the heritage of a real unit – Legio XXI Rapax ("21st Rapacious"). It was raised during Avgvstvs reign around '30 BC, probably in Spain, and lasted until late '80 or early '90 AD when it was either punitively disbanded by Domitianvs or destroyed in battles in Pannonia. Stationed mostly in provinces of Germania Inferior and Superior, XXI was known for it's actions during conquest of Raetia (15 BC), stirring up mutiny of the northern legions and then taking part in retaliation campaigns of Germanicus against Germanic tribes (14-16 AD), important role in the civil war of The Year of Four Emperors (69 AD) or quelling the Revolt of the Batavi (69-70 AD). It was probably one of the most unruly legions Rome has ever raised.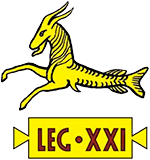 QVID AGIMVS
WHAT WE DO
Our aim is to recreate and popularize knowledge of military tactics, material culture and everyday life of a Roman legionary from 2nd half of 1st century AD. You can see us at the biggest ancient reenactment festivals throughout whole Europe, at many local events or even accidentally somewhere in the field, when we're on the marching expedition.
We stay loyal to historical to the furthest possible extent, except for safety or legal reasons. If it's not described in ancient sources or can't be demonstrated using them, we don't do or use it. This means extensive research, discussions and constant corrections to our equipment. We're using hand woven, dyed and stitched fabrics, shoes hand made by our members, heavy and light gear of all kinds historically proper in shape and composition.
We don't just dress up, but recreate. This means all modern items are forbidden in our camp, including tents' interiors. The camp itself is a living scene: we sleep in it, cook and eat on our own, train drill and fighting, have Latin lessons, organize group games, conduct military and religious celebrations, keep night watch, run legion's office, field hospital etc. We use commands in Latin restituta – a form closest to one the ancient Romans used.
We use our replicas, not just display them. Weapons, armor, tools, clothes, shoes, tents, utensils – all are tested in various conditions during winter patrols, rivers crossings, marches and camping overnights in forests, battle shows. It's a way to verify various hypotheses and gain new experiences which – with necessary reservations - can shed light on how combat and non-combat equipment could have been used, worn and carried back then.
What and how we do it you can see in our GALLERY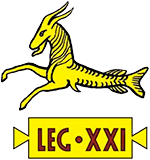 PRIDIANVM
CENTURIA'S ROSTER
Before all Legio XXI Rapax is a group of amazing, diligent, committed and helpful people, tied by - properly for the first professional army in history - bonds of true brotherhood. Without them all this wouldn't be possible.
Our ambition is to recreate a fully manned, equipped and operational centuria - a basic sub-unit of a Roman legion (with nominal strength of 80 people): with a leading centurion, his deputy, watch commander, standard-bearers, musician, appropriate artillery, adequate number of rank & file legionaries. We take care to avoid unhistorical overabundance of officers.
Centvria est omnis divisa in contvbernia…
Our group is divided into sections "stationed" in different cities and gathering members from the nearest vicinity. We called them contubernia (historically, 8-men contubernium was the smallest structural part within a ceturia). Every such section organizes its own drills, takes part in local events, helps its members in gaining knowledge and equipping themselves. Several times a year all contubernia meet during big historical festivals, becoming there a one centuria of Legio XXI Rapax - raising a big camp, training together, taking part in shows, battles or ceremonies dedicated to the gods and emperor.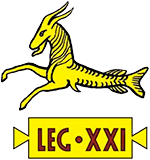 Members of the Legio XXI
PRINCIPALES
Praefectvs castrorvm
Primvs Fabivs Lvcianvs Bibvlvs
Primvs pilvs, Centvrio
Marcvs Rebivs Cacaivs Asellio
Optio
Qvintvs Petilivs Secvndvs
Cvrator Veteranorvm
Gaivs Valerivs Procilvs
Aqvilifer
Qvintvs Trebativs Tvbvlvs
Imaginifer
Decimvs Fabricivs Laco
Signifer
Gnaevs Tvllivs Cato
Vexillifer
Qvintvs Fabivs Silvester
Cornicen, Optio fabricae
Lvcivs Tvllivs Cactvs
Evocatvs
Gaivs Flavivs Germanvs
EQVITES LEGIONIS
Eqves
Marcvs Flavivs Arminivs
Contvbernivm PERCINI
Miles
Avlvs Terentivs Percinvs
Miles, Coqvvs
Hostvs Vlpivs Masvrvs
Miles
Tiberivs Metilivs Agrippa
Miles
Lvcivs Arrivs Magnvs
Miles
Sextvs Caelivs Caldvs
Tiro
Caeso Sicinivs Calvvs
Tiro
Qvintvs Sanqvinvs Maximvs
Tiro
Primvs Titivs Atticvs
Tiro
Primvs Octavivs Tranqvillvs
Tiro
Pvblivs Tvllivs Martialis
Contvbernivm MAVRI
Miles
Pvblivs Marcivs Mavrvs
Tiro
Appivs Albanivs Pinvs
Tiro
Lvcivs Domitivs Scaevola
Contvbernivm NASONIS
Miles, Specvlator
Titvs Lappivs Naso
Miles
Tiberivs Fvrivs Severvs
Miles
Sextvs Naevivs Bestia
Miles
Marcvs Grattivs Lepidvs
Miles
Pvblivs Cominivs Panis
Tiro
Nvmerivs Vergilivs Salinator
Tiro
Pvblivs Caecilivs Speratvs
Tiro
Lvcivs Sertorivs Firmvs
Tiro
Sextvs Fvrivs Sparticvs
Tiro
Marcvs Manivs Modestvs
Tiro
Pvblivs Cornelivs Radiatvs
Contvbernivm CACTI
Miles, Cvstos Armorvm
Qvintvs Cassivs Faber
Miles
Pvblivs Florivs Pictor
Miles
Titvs Calidivs Silanvs
Miles
Titvs Flavivs Negrvs
Miles
Sextvs Valerivs Fronto
Tiro
Lvcivs Vibivs Gemellvs
Tiro
Qvintvs Valerivs Raptvs
Miles
Tertivs Tvlivs Metellvs
Tiro
Lvcivs Cornelivs Flaccvs
Tiro
Qvintvs Flavivs Prvnvs
Tiro
Primvs Valerivs Marinvs
Contvbernivm SECVNDI
Miles
Decimvs Vitrvvivs Barbatvs
Miles
Tertivs Larcivs Postvmvs
Tiro
Nvmerivs Horativs Holvs
Tiro
Septimvs Cornelivs Stratvs
Tiro
Marcvs Rvfivs Vespillo
Tiro
Marcvs Fvrivs Camillvs
TIro
Titvs Larcivs Convictvs
Tiro
Lvcivs Cornelivs Macro
Contvbernivm VAGINI
Tiro
Qvintvs Messivs Vaginvs
Miles, Stationarivs
Mettivs Naevivs Corax
Miles, Stationarivs
Gaivs Postvmivs Telesinvs
Miles, Capsarivs
Pvblivs Flavivs Gregorivs
Miles, Frvmentarivs
Manivs Cvrivs Crassvs
Miles
Lvcivs Flavivs Anaticvla
Miles
Tertivs Fvrivs Mandatvs
Tiro, Medicvs
Lvcivs Eqvitivs Hirrvs
Tiro
Marcvs Scribonivs Cinna
Tiro
Lvcivs Licinivs Mvrena
Tiro
Marcvs Vergilivs Mercator
Tiro
Gnaevs Hortensivs Minimvs
Tiro
Pvblivs Cornelivs Cosinvs
Tiro
Marcvs Vergilivs Macer
Tiro
Primvs Antonivs Albvs
Tiro
Lvcivs Octavivs Rvsticvs
Tiro
Titvs Tvllivs Tractor
Contvbernivm ROGATI
Miles, Campidoctor
Gaivs Livivs Rogatvs
Miles
Qvintvs Cornelivs Capriolvs
Miles
Marcvs Cornelivs Perpetvs
Miles
Qvintvs Domitivs Ramvs
Miles
Titvs Flavivs Cricetvs
Contvbernivm DELIRI
Miles, Campidoctor
Marcvs Lavrentivs Delirvs
Miles
Titvs Flavivs Florvs
Tiro
Decimvs Vesvvivs Italicvs
Contvbernivm DILECTI
Tiro
Gaivs Cassivs Dilectvs
Miles
Gaivs Petronivs Nero
Tiro
Tiberivs Petronivs Grvmvs
Tiro
Titvs Avrelivs Agricola
Tiro
Herivs Virivs Tavrlvs
Tiro
Sextvs Petronivs Sabinvs
Tiro
Tiberivs Ivlivs Papavervs
Tiro
Marcvs Trebativs Cvcvmis
Tiro
Decimvs Petronivs Ianitor
Tiro
Qvitvs Petronivs Mvlanvs
Contvbernivm HIRTI
Miles, Stationarivs
Appivs Navtivs Licinvs
Tiro
Avlvs Octavivs Hirtvs
Miles
Tiberivs Plinivs Lotor
Tiro
Gaivs Valerivs Armanvs
Tiro
Marcvs Cornelivs Mervla
Tiro
Decimvs Vlpivs Soccvs
Tiro
Tiberivs Tvllivs Avvlsor
Tiro
Pvblivs Vlpivs Perditvs
Contvbernivm VRSI
Miles, Librarivs
Caivs Valerivs Vrsvs
Tiro
Manivs Flavivs Sordidvs
Tiro
Qvintvs Marcivs Balbvs
Tiro
Pvblivs Avfidivs Fvribvndvs
Tiro
Caivs Trevericvs Explorator
Tiro
Qvintvs Licinivs Avlvs
Tiro
Tiberivs Clavdivs Batavicvs
Tiro
Marcvs Terentivs Agelatvs
Tiro
Lvcivs Qvintilivs Ianvs
CIVILES
Scvlptor
Titvs Flavivs Aqvila
Faber
Gaivs Gentilivs Victor
Flavivs Terentivs Pertinax
HONESTA MISSIO
Signifer
Avlvs Flavivs Maximvs
Miles, Specvlator
Septimvs Virivs Lvpvs
Miles
Nvmerivs Grattivs Bonvs
Miles
Titvs Flavivs Rapidvs
Miles
Vibivs Silivs Alatvs
Miles
Avlvs Pontivs Tavrvs
Miles
Gaivs Fvrivs Mortifervs
Tiro
Caeso Qvinctilivs Falco
Tiro
Marcvs Valerivs Nemvs
Tiro
Qvintvs Svetonivs Savlvs
Tiro
Spvrivs Decivs Darivs
Tiro
Lvcivs Lvcilivs Lvcvllvs
Tiro
Gnaevs Terentivs Pestinvs
Tiro
Qvintvs Terentivs Varro
Tiro
Sextvs Horativs Mvranvs
Tiro
Lvcivs Cornelivs Barbatvs
Tiro
Lvcivs Lvcretivs Cavvs
Tiro
Pvblivs Terentivs Metellvs
Tiro
Marcvs Acilivs Glabrio
Tiro
Servivs Ovidivs Aries
Tiro
Marcvs Fvrivs Triarivs
Tiro
Tiberivs Flavivs Flaccvs
Tiro
Marcvs Longinivs December
Tiro
Pvblivs Nigidivs Figvlvs
Tiro
Tiberivs Avrelivs Sabinvs
Tiro
Marcvs Calidivs Carbo
Tiro
Sextvs Flavivs Desprinvs
Tiro
Primvs Ivlivs Talpinvs
Tiro
Titvs Caecilivs Troianvs
Tiro
Lvcivs Acilivs Vesper
Miles, Campidoctor
Agrippa Seivs Tiranvs
Miles
Primus Equitius Venator
Tiro
Pvblivs Svetonivs Bvbo
Tiro
Avlvs Tvllivs Viridvs
Miles
Titvs Flavivs Pollio
Miles, Specvlator
Gaivs Salonivs Rvfvs
Tiro
Nvmerivs Petronivs Passer
Tiro, Capsarivs
Pvblivs Tvllivs Hedonicvs
Tiro
Qvintvs Grattivs Silentivs
Tiro
Qvintvs Arrivs Atellvs
Miles, Coqvvs
Pvblivs Cornelivs Anvlinvs
Miles
Qvintvs Nerativs Fortvnatvs